Navigating Differences in a Changing World
Dialogues on Diversity, Culture, and Identity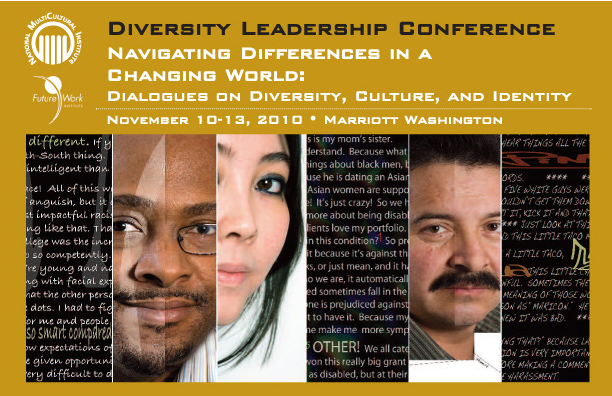 Diversity Leadership Conference
The National MultiCultural Institute (NMCI) and The FutureWork Institute (FWI) join forces for the third time to present a joint Diversity Leadership Conference devoted entirely to diversity and inclusion, and offering a multi-faceted experience, unlike any other conference:
Trends and insights from plenary gatherings are balanced with deeper learning from small group and intensive workshops.
Issues of currency are explored in the context of the underlying principles of multicultural competence.
Intellectual analysis is matched with emotional awareness.
This unique Diversity Leadership Conference presented by NMCI and FWI, leaders in the field of diversity and inclusion, attracts a variety of diversity and multicultural professionals from nonprofits, national, state, and local governments, and corporations.
Attendees, who are responsible for helping their organizations successfully navigate the increasingly multicultural landscape, participate in interactive dialogues that provide an environment fertile for cross-pollination of issues, ideas, and solutions.
Navigating Differences in a Changing World: Dialogues on Diversity, Culture, and Identity
While diversity and inclusion are acknowledged by many as boons to creativity, innovation, and engagement, our ideological differences still get in our way. Partisanship is overshadowing partnership. Daily, we are bombarded by negative messages about differences. These realities shape our individual, and at times group, perceptions. "Us and they" still exists, and the work of diversity and inclusion champions is critical to finding pathways through these confusing and turbulent times.
NMCI and FWI's fall 2010 Diversity Leadership Conference, Navigating Differences in a Changing World: Dialogues on Diversity, Culture, and Identity, focuses on the power of dialogue in soothing, navigating, and leveraging the vortex of our nation's dynamic shifts in demographics, in perspectives, and in experiences.
Over the course of four days, the conference will:
Present new data critical to your work
Build skills that improve cross-cultural and cross-ideological communications
Provide tools for creating and maintaining inclusive workplaces
Prepare your organization for the challenges and opportunities ahead
Learning Platforms
Navigating Differences in a Changing World: Dialogues on Diversity, Culture, and Identity features the following learning platforms:
General Sessions – The fall 2010 conference offers four large group events – four Keynote Speakers (Joe Watson, Kevin Jennings, Neely Tucker, and Evelyne and Arthur Matthews). Large group learning offers insights from diversity and inclusion leaders, learning from peer participation, and networking opportunities.
FWI Diversity Dialogues – Developed as part of The FutureWork Institute's commitment to help its clients take a 360 approach to diversity and inclusion by moving forward into the future, Diversity Dialogues takes participants broader into issues of multicultural and multigenerational diversity, and deeper into the traditional issues of race/ethnicity, gender, and LGBT, among others. These three-hour sessions are intended to help participants take a meaningful look at important issues and use the dialogue methodology to engage in more courageous conversations in order to move our diversity and inclusion work to a new level.
NMCI Diversity Leadership Workshops – NMCI's rigorous one- and three-day workshops are devoted to the multiple dimensions of one central topic which is presented in a safe and dynamic atmosphere. These one- and three-day programs serve people at all points on the cultural competence continuum: from individuals interested in developing a diversity and inclusion foundation to professionals ready for the next level of organizational capacity building. All workshops are built around NMCI's proven framework, featuring four modules: Knowledge, Awareness, Skill-Building, and Action Planning.
Who Attends
The Diversity Leadership Conference draws national and international emerging and established leaders in diversity and inclusion. Professionals dedicated to diversity and inclusion who work in the nonprofit, education, government, and corporate sectors attend, including diversity practitioners, human resource professionals, trainers and consultants, and other managers and administrators who are active, or interested in, creating a more inclusive world.
About the Images
The photographic portrait featured above is a composite from an exhibition by Kay Chernush called "The Us and The They: Prejudice and Empathy in America's Smallest County." The work explores in images and words how we see ourselves, how we see others, and how the "Other" sees us.
In this perceptive new series, photographer/artist Kay Chernush, from Arlington, Virginia, turns her lens on a diverse group of Arlingtonians, holding up a mirror to the prejudice and stereotypes they have experienced in their everyday lives.
Pictured above are Christian Dorsey, Mimi Xang Ho, and Tomas Lopez.
© Kay Chernush. All Rights Reserved.
Other Information
Certificate Training Programs
Upon completion of any of NMCI's workshops, participants will receive a certificate of attendance from the National MultiCultural Institute.
Continuing Education Units
CEUs are available to counselors, pscychologists, and social workers, as approved by NMCC, MD Board of Examiners of Psychologists, and NASW. The fee is $25.
Keep Up to Date and Tell a Friend
Updates for the fall 2010 conference will be posted regularly on this Web site. You may also want to be added to our mailing list, or follow us on the following social networks:
Send this link to your friends and colleagues.
Contact Information
Conference Contact
Diana Hossack
DHossack@nmci.org
(202) 483-0700, ext. 103
Conference Registrar
Audrey May
AMay@nmci.org
(202) 483-0700, ext. 101
Experience NMCI's Diversity Leadership Institute!
Hear What Past Participants Have to Say
"Organizations searching for practical diversity and inclusion solutions will find these at this conference. The opportunity to hear futurists' views, increase facilitator skills, and network are rich."
Betsy Silva Hernandez
Senior Director Diversity, Learning, Consulting and Employee Network Groups Sodexo
"This is the most valuable conference I have attended – ever – primarily because of the three day workshop with some time for business and keynote instead of a series of sound bites."
Mary Mullany
HR Division Chief, Training and Development, City of Richmond
"Attending the NMCI conference was an invaluable step on my diversity and inclusion journey. Not only were the workshops and facilitators top-notch, but the networking opportunities with my fellow attendees continue to serve me today."
Tyson Ardo
Certified Coach, Flow 1, Boehringer Ingelheim Roxane Inc.
NMCI/FWI Strategic Partnership
In 2008, the National MultiCultural Institute and FutureWork Institute formed a strategic alliance bringing together proven leaders in the field of diversity consulting and training. The core competencies of both organizations include strategic consulting, organizational assessments, training, coaching, and research. This partnership marked the first time a leading global diversity consulting firm has aligned with a leading non-profit.
National MultiCultural Institute
The National MultiCultural Institute (NMCI) is a private, nonprofit organization founded in 1983 whose mission is to work with individuals, organizations, and communities in creating a society that is strengthened and empowered by its diversity.
Through its programs, NMCI leads efforts to increase communication, understanding, and respect among diverse groups, and addresses important issues of multiculturalism facing our society.
In addition to its twice annual Diversity Leadership Conferences, NMCI provides Organizational Consulting and Training on diversity issues, publishes books and training manuals through NMCI Publications, and develops Leading Edge Projects in the field.
FutureWork Institute
The FutureWork Institute, Inc. (FWI), formerly the Global Diversity Practice of Towers Perrin, is a leading global diversity workplace consultancy with a strategic change management approach to diversity and inclusion.
The firm was spun off in 2002 to model the workplace of the future, experimenting with an approach based on "my-job my-way, my-business our-way and my-perks my-way."
FWI counsels its clients to tie diversity to their business strategy and move their organizations forward by deepening their work on the traditional issues of race, ethnicity, and gender while exploring emerging issues such as generational diversity, career diversity, and religion at work. FWI clients have traditionally been Fortune 1000 companies and other large for-profit enterprises.
Conference Sponsors