Amber L. Mayes is an accomplished organizational consultant and executive coach with 13 years of experience enabling organizations and individuals to learn and grow to their fullest potential. She specializes in leadership team development, executive coaching, and women's personal and professional development. Her passion is creating environments where individuals, teams and organizations can transform and break through to unparalleled performance.
Through experiential coaching and training models, Amber facilitates the individual awareness and skill development necessary for effective leadership in today's diverse world. Her seminars, coaching and consulting have been attended by thousands of leaders in prominent Fortune 100 companies, leading national nonprofits, and universities. Her work is known for its specialized customization and transformational results.
Amber has taught courses on organizational behavior and cross-cultural leadership at Bentley and Northeastern Universities respectively. She is a former Director and Finance Committee Chair of the NTL Institute's Board where she led the Board's financial oversight and was integral to shaping the organization's strategic direction during a major period of transformation.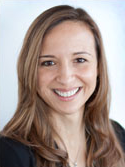 Amber holds an M.S. from the joint program in Organization Development at The American University and NTL Institute and a B.A. in Psychology from Harvard University, where she graduated cum laude. She also holds a certificate from the Gestalt Institute of Cleveland's Being an Effective Organizational Intervener program.
Currently, Amber's passion is supporting women leaders in finding their true voices and aligning their power toward achieving greater balance, fulfillment and effectiveness in their lives and work. Amber authentically shares her personal challenges of navigating the corporate world while holding onto her authentic leadership style as a woman in her work with leaders. This is connected to her strong belief that, as leaders, "people will only go where you will."
To learn about Amber Mayes' work in Breakthrough Leadership, visit http://www.ambermayes.com.